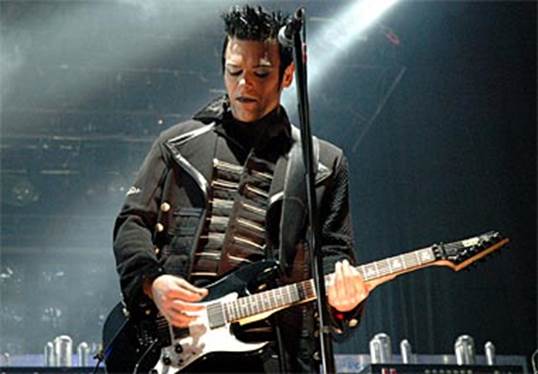 AMH Network had an interview with Richard about Rammstein, Emigrate and the new album Silent So Long.
http://amhnetwork.com/interview-richard-z-kruspe-emigrate-rammstein/
Having won numerous awards for best German band and live act, selling over thirty five thousand records, and being known as part of a highly controversial band, Rammstein guitarist Richard Z. Kruspe is still motivated to embark on musical projects like the current; Emigrate.
Formed in New York City while Kruspe was living there, alternative/metal band Emigrate was formed by Kruspe, featuring members of Apocalyptica and Combichrist. As somewhat of a supergroup, Emigrate released a highly successful self-titled album in 2007.
Seven years on, Rammstein have been toning down their activity which left Kruspe to examine sophomore album options, leading to the development of 'Silent so Long'.
Ahead of basking in the leisure of German Unity Day to celebrate the post-war reunion of Germany, Kruspe anticipates the release of the new record. "After making many records, for the first time in my whole life, I finally feel like I don't want to change a damn thing on this album."
The Emigrate front man always knew that there would be two albums, but only now he realises that there is a future for the band. "I feel like Emigrate completes what I was missing in the world of Rammstein" he explains. "This band gives me the opportunity to have more open forces; people can come in and collaborate, just making music together.
Kruspe offers an explanation of how Emigrate came about. "The band started by being frustrated, especially in the world of Rammstein which is quite closed-off and square in a way." Whilst he reiterates that this works for Rammstein, the guitarist wanted more on a personal level.
"I grew up in East Berlin, and there was a time before 'the wall' which had an underground scene, and there were so many bands coming out and collaborating together."
After playing with only Rammstein for twenty years, Kruspe felt like he needed to fill a void. "On the first record I was too busy finding myself as a singer and the sound that I would have, in order to master our band's sound."
Eventually the 47-year old figured out the recipe to the microphone. "I found this mental switch in my head to be a singer and eventually felt comfortable enough to record some material that I wrote." Kruspe moved back to Germany before writing and recording the sophomore album." I think the record has got this kind of 'Berlin' vibe to it" as opposed to the debut album's New York atmosphere.
"The new record has this moodiness and electro vibe to it which was missing on our first record, so I think that's the biggest difference. It is actually something that I am quite proud of, and I'm really excited at the moment, I really must say (he laughs)."
'Silent so Long' features an impressive list of guest musicians, namely Slash, Lemmy Kilmister of Motörhead, Marilyn Manson, and others. "We didn't really have a list of people that we wanted to work with" the Rammstein guitarist explains. "Basically the tracks were dictating which direction we should go and who would complete the sound."
The band were surprised at the positive response from the rock and roll superstars they reached out to. "We asked Lemmy, but he was really sick at this point and he was cancelling shows and so I thought there was no chance he had time to go into the studio."
This did not leave Kruspe disappointed as he did not expect much from the Motörhead front man. "Then a couple of days later, I just got an email with the track and his vocals on it, with no explanation, there it was, Lemmy's featuring on my track" the German states excitably.
Despite a long-list of guest features, Kruspe emphasises the importance of a balancing act as he did not want to produce a karaoke album.
With most of Rammstein's lyrical content spoken in German, it seems interesting that Kruspe sings in English. "Emigrate's birth is quite odd, so the first instinct was to do something different than with Rammstein."
The Rammstein backup vocalist grew up with American English music, another influence to his English songwriting. "Till (Lindemann), of Rammstein sings in German, and he writes the best stuff in German – but unfortunately I do not have that ability."
The Emigrate logo or symbol appears reminiscent of the Jewish Star of David, though the two are not at all related. "First of all, the circle symbolises the circle of life and the E (symbolises [the action to] Emigrate out of the circle of comfort zones which is what I did my whole life.
"I moved from a small city in Germany to East Berlin by myself because I felt too comfortable, so I escaped from east to west because I believe that your music or art becomes more truthful or tenser in a foreign place."
True to his metal roots in Rammstein, Kruspe was actually reminded of a pentagram rather than the Jewish Star of David.
With no plans to tour with Emigrate whatsoever, Kruspe quashes any Rammstein related rumours. "At the moment there are no plans for Rammstein to come to Australia. [The band] will see each other again next year again and I guess we will go from there."
Emigrate's new album, Silent So Long, will be released on the 14th November via Universal / Caroline Australia.